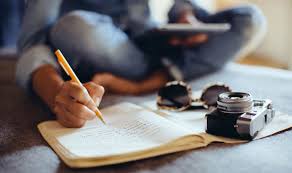 Take an hour to sit back, relax and enjoy.
Here is a recording of a live call which includes guided prompts of the simple steps.
Begin by clicking here and listening.
You will be guided how to create a goal statement.
Choose one area to focus.
It can be easy to believe we are a "hot mess", or that our entire life is a disaster. That's a trap our Egoic Mind wishes us to believe and it's self-defeating before we even begin the process. So be kind, and trust focusing on one area per goal.
Areas: Professional • Financial •Relationship (with another or with oneself • Health/Wellness • Creativity

2. State and picture your goal in a simple positive, possible way. Phrase it in the present, as if it's already achieved.
Use the word "Allow" rather than lacking words like "want", or "more, better or different".
Using the word "Allow" helps the mind relax into the abundance of your being you and setting the goal.
Example: I allow myself to be financially independent; and make choices.
NOT: I want or I need more money for retirement.

3. Create mini-action steps towards this larger goal.
What's one step you can take today?

Allow yourself to be open rather than assuming there's just one way to achieve your goal. Trust in the abundance and opportunities that will reveal themselves simply by beginning open to the process with ease.
What's one gain or win you had listening to the recording?
No matter how small. What did you gain?
Focusing the mind on what you've gained helps build positive momentum.
Send your wins to jennifer@jenniferschelter.com.
We love to hear what you got! Allow yourself to find the good.
Enjoy.