Description
Radiant Retreat, February 10-17, 2024, Xinalani Eco Resort, Quimixto, Mexico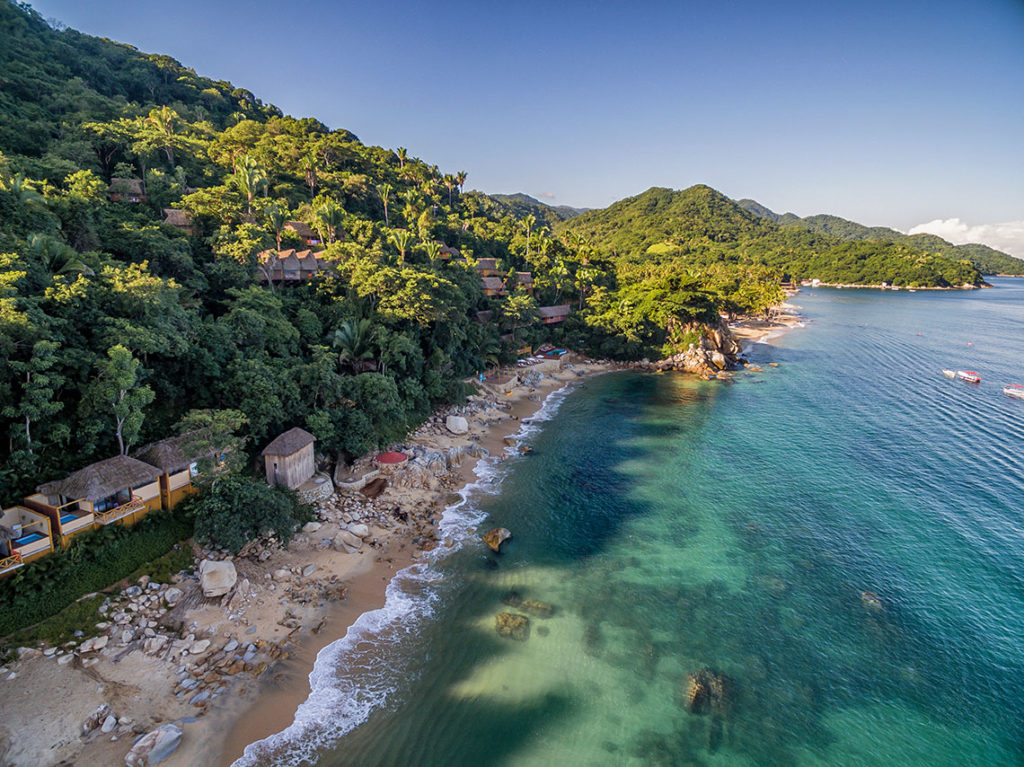 Time to reconnect to nature, beauty, and spark joy.
"The Radiant Retreat evoked a sense of adventure in me. An opportunity to stop the noise. 

Time and space to figure out what is really important to me. The place. The people. The laughs. 

I'm going back next year." 

– GG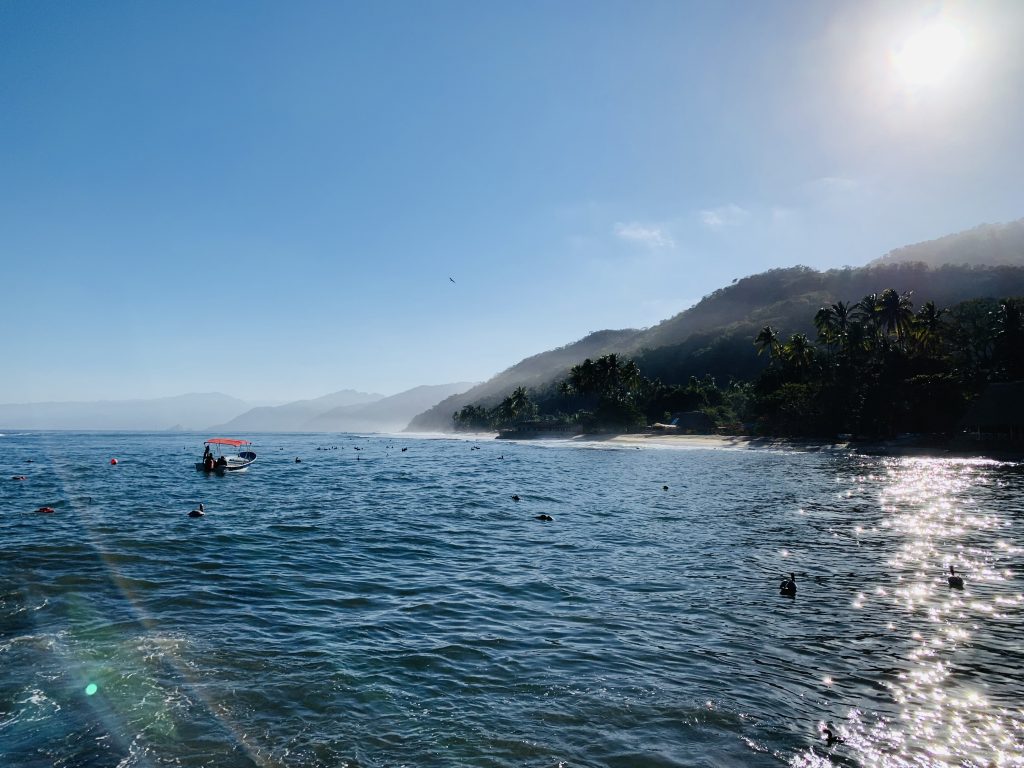 Days (average temperatures range from 80° / 62° so bring a fleece or a warm sweater) are inspired by nature, delicious food, mindfulness meditation, yoga, writing and plenty of free time to explore. We are hosted by Xinalani (Shee-na-lani) Resort built into the Sierra Madre mountains overlooking Banderas Bay on the Pacific ocean. You fly into Puerto Vallarta and are met for a water taxi to Xinalani. Look out for whales migrating in February. Unplug and reconnect to the feeling of "tremendum"; awe and love of life. The Radiant Retreat is founded and facilitated by Jennifer Schelter with 25 years of experience in retreat leadership. Here are 10 things you should know about the resort.
"I 

loved the Xinalani yoga retreat experience and had an amazing week of growth and reflection, joined by a wonderful community of women, set amongst the most beautiful, natural backdrop of both the ocean and the jungle. I appreciate all Jennifer does to create the structure and space for a meaningful retreat experience. Jennifer has a gift in her ability to create a positive and authentic experience which meets everyone's individual and collective needs." – Lisa Hompe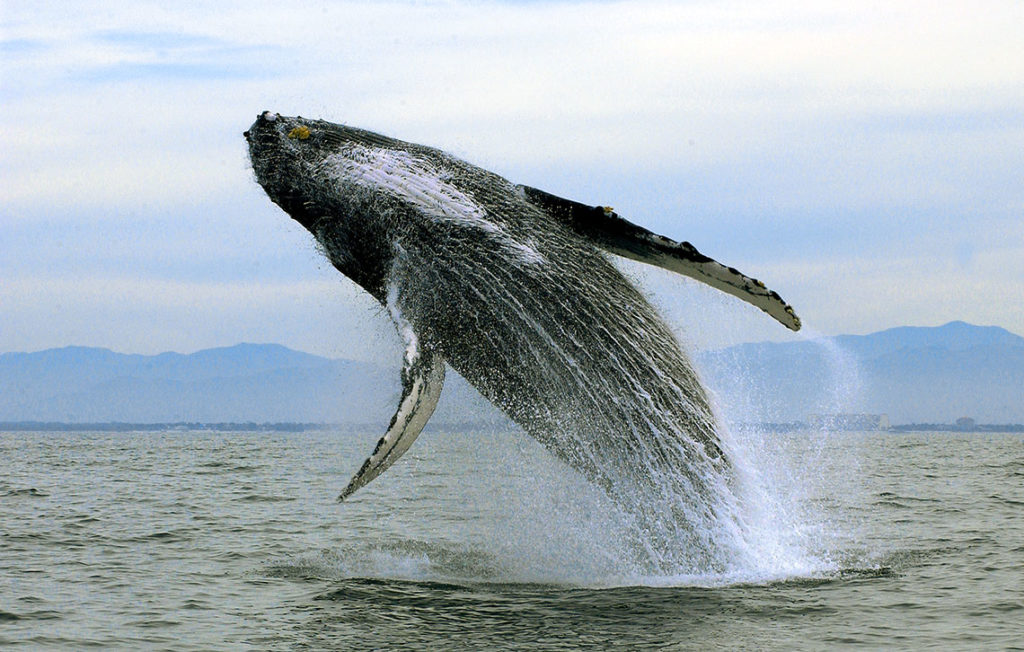 Xinalani is a scenic 10-minute stroll to the local town of Quimixto or a 30-minute coastal hike to Las Animas with a wide swimming beach. There are no cars.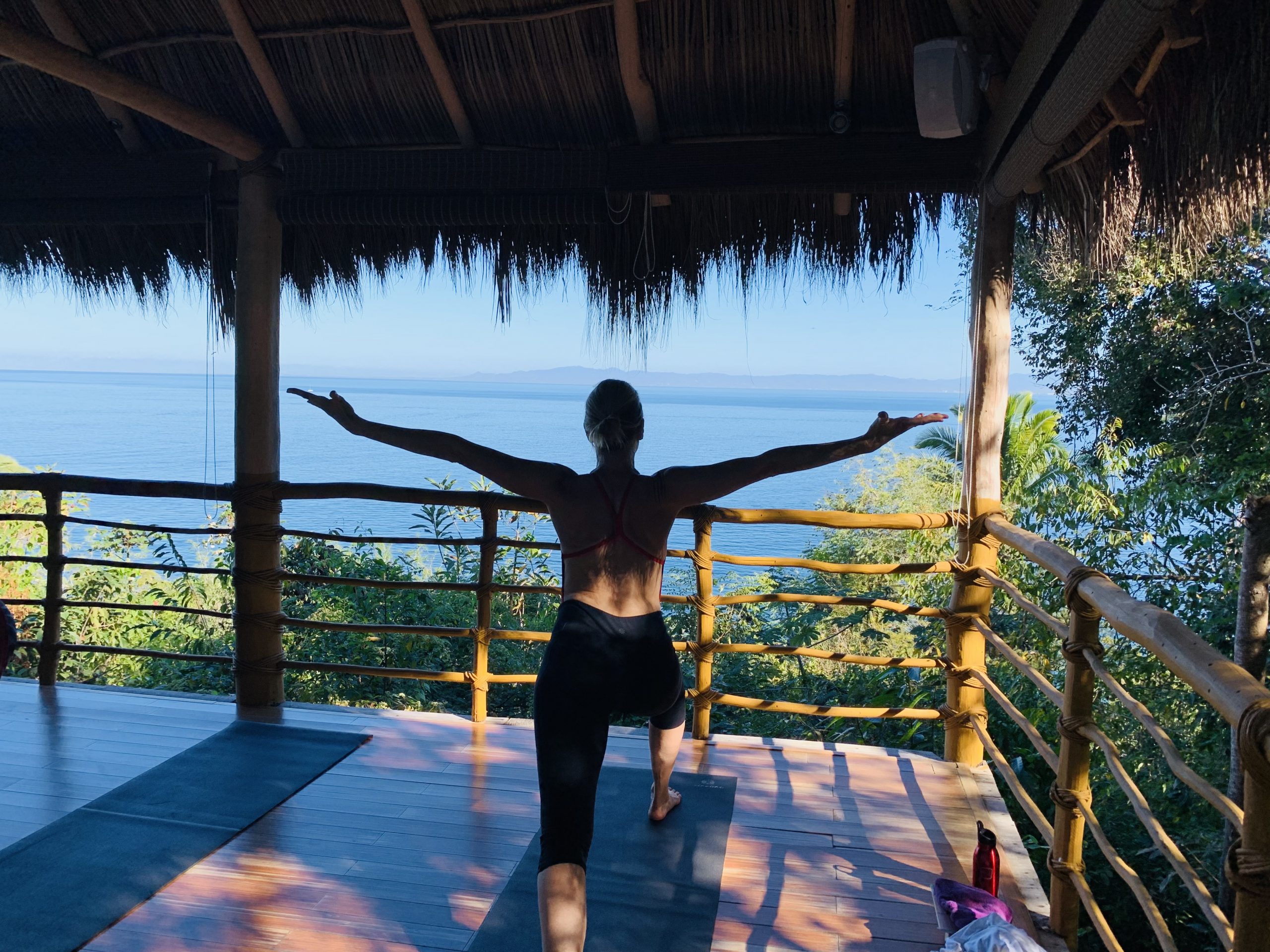 Choose from daily Radiant Retreat classes. SAMPLE DAILY ITINERARY ~ make it your own 
Morning Meditation – Guided release, silence & optional journal prompts
Yoga ~ Gentle restorative yoga for alignment, flexibility, strength & balance
Buffet Breakfast
Buffet Lunch
Free time
Afternoon Writing – Reading & Writing prompts for journaling & life stories
Buffet Dinner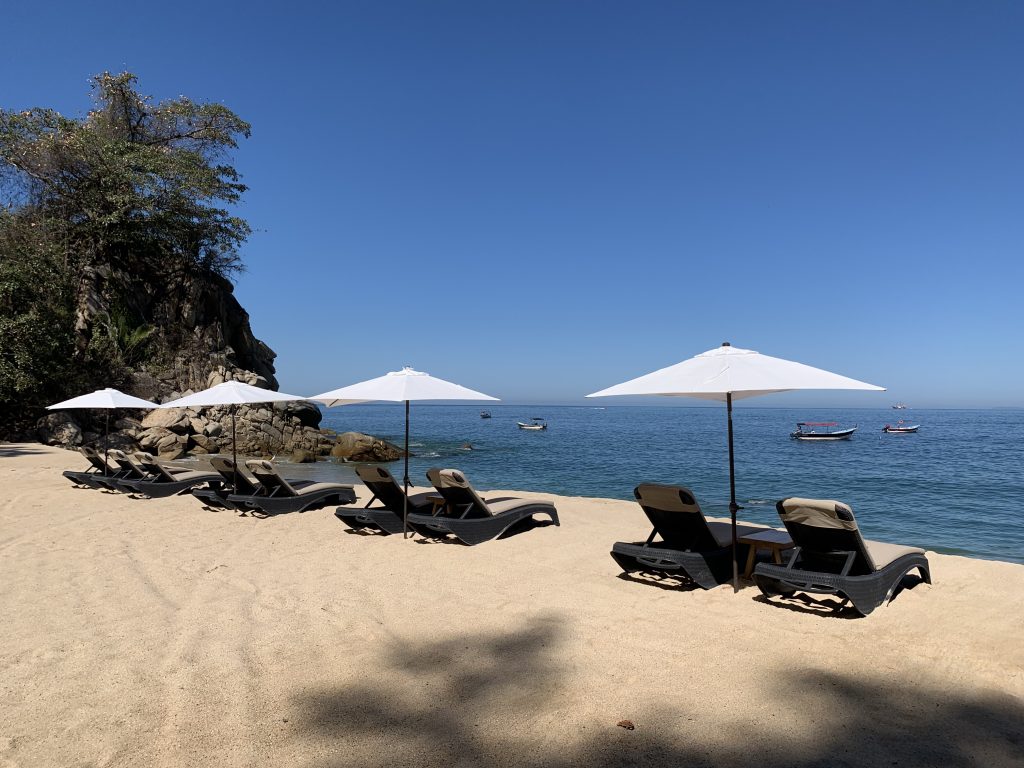 RETREAT PROGRAM INCLUDES:
Daily retreat program itinerary, chic-accommodations, bottled water, on-site WiFi (spotty at best, and great to get off the grid), yoga mats and props, swimming off the beach or infinity pool, using the complimentary kayaks, paddle boards, snorkels and flippers, hiking to the local waterfall or town and three gourmet meals a day, served buffet style; guacamole, salads, delicious vegan, fish, chicken and meat. Here are 10 things you need to know about Xinalani.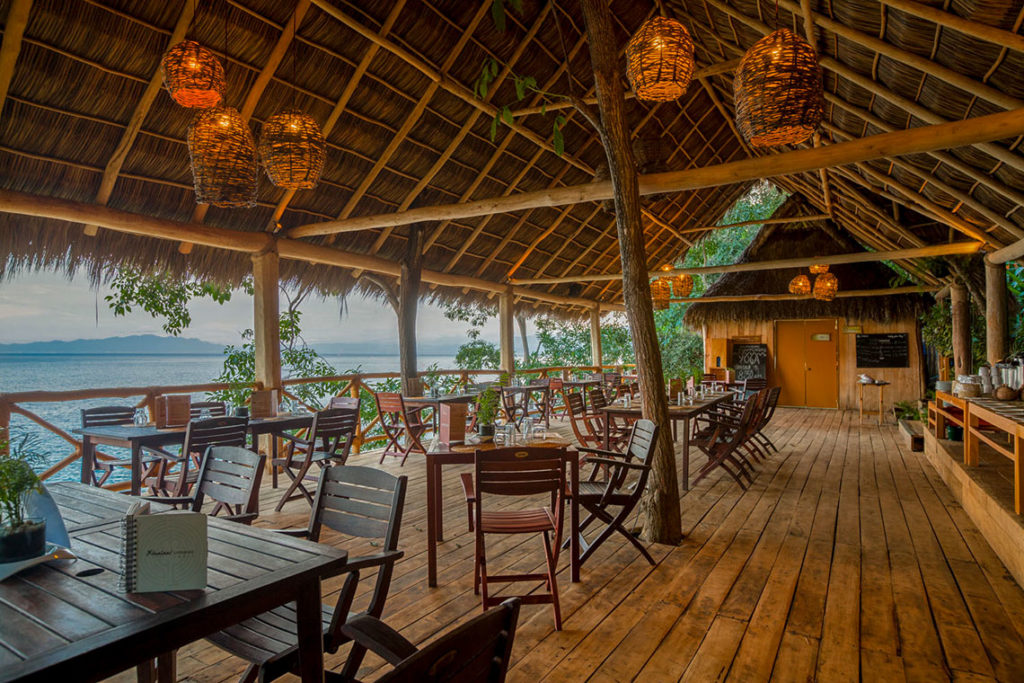 The stunning dining room over looks the bay. Excursions and spa treatments are booked through Xinalani at an additional cost including: Tamazcal (sweat lodge), ice bath, jungle hikes, zip-line, wild dolphin swim, whale watch, scuba diving, a day trip to the village of Yelapa and spa and massages.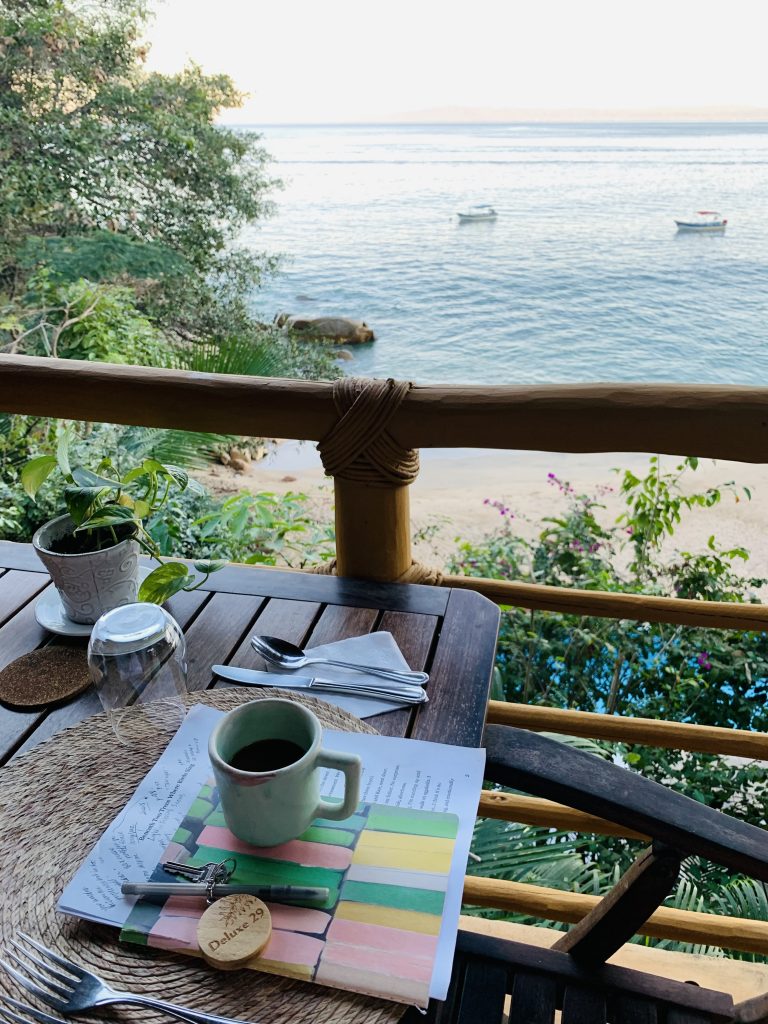 "The Radiant Retreat is a joyful, safe space where each person is seen, heard and celebrated. You will absolutely discover that you are a writer. You will learn to view your experience as stories and writing down a story makes you a writer. You will dive deep into yourself and love what you see there."

– Anne Marie Kennedy
Retreat Benefits:
Being in nature
Self-Care + Joy
Unplugging + Restoring A Sense of Wonder
Connecting with the soul's creativity + dreams
Exploring new landscapes
Fun off the grid
Meeting kind, like-minded new people + having a friendly community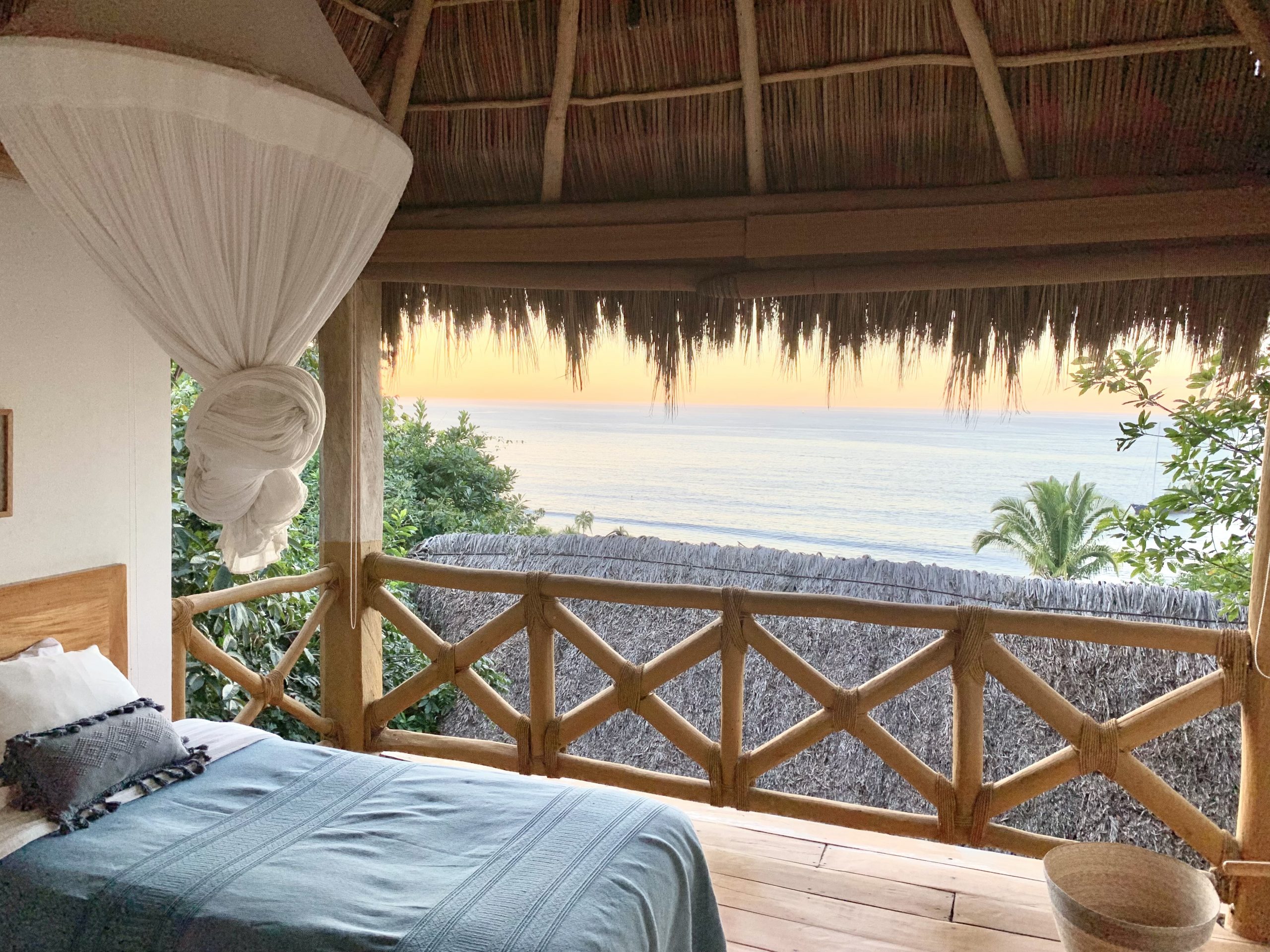 Deluxe Room seen above. To see rooms click here. 
Retreat Rates: Includes Daily Retreat Programs, Paddle boards, Kayaks, Scuba masks + flippers, Infinity pool, 3 Gourmet – Buffet meals a day, Final Night Dinner on the Beach. Includes transportation – taxi from airport to water taxi to Xinalani + return trip.
Deluxe Rooms Cozy Rooms located near the restaurant and beach club. Deluxe rooms are cozy and perfect for single travelers, two friends, or budget-savvy couples. They feature either two single beds or one double bed with beautiful mosquito netting, a table with two chairs, hammock, a spacious bathroom, open-air shower and sitting desk.
$2,625. – Double Occupancy, $4,398. – Single Occupancy
Deluxe AC $2,755. – Double Occupancy, $4,688. – Single Occupancy
Eco-Chic Suite Private and comfortable open-air suites with amazing views to the ocean
With beachfront locations on the property, these spacious open-air casitas (not completely closed) have spectacular ocean views. Each has either one king size bed or two double beds with beautiful mosquito netting. All rooms have a private terrace, hammock, sitting zen area, private bathroom and closet.
$3,315. – Double Occupancy, $5,804. – Single Occupancy,
Eco Chic Suite AC $3,458. – Double Occupancy, $6,092. – Single Occupancy,
Casitas – Luxury and privacy facing the beach Our best option for couples, the Beach Casitas are located next to our beach and have spectacular ocean views. They have a private patio with a plunge pool, air conditioning, a hammock, a desk, a private bathroom with an open-air shower and a closet. They have a king-size bed with mosquito netting.
$3,746. – Double Occupancy, $6,669. – Single Occupancy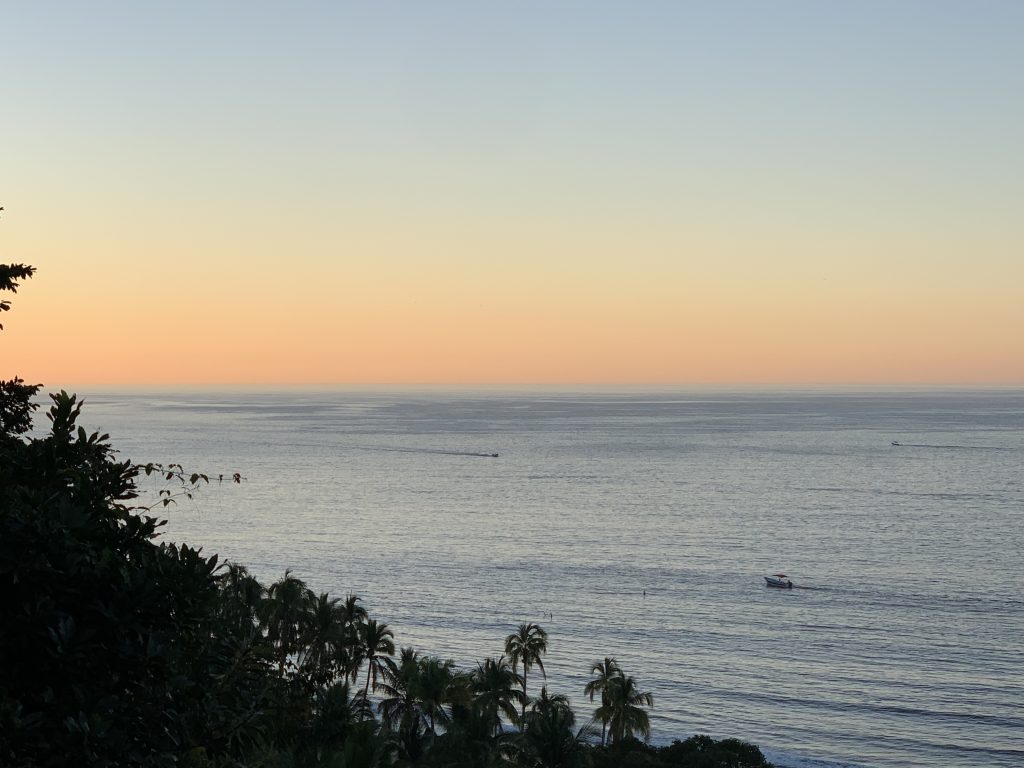 "I found my voice!"

– J. Scott

"This is the most life-changing, outstanding retreat I've ever been on." 

– Oprah Producer

"…the most beautiful experience I've had in a very long time. The breathtaking location, inspiring community and almost magical practices have given me the tools to change myself into the person I've always wanted to be."

– C. Brown

"Jennifer was an absolutely fabulous leader – caring, loving and focused on providing professional excellence. She wants the best for each participant."

– C. Anderson
Registration: info@jenniferschelter.com
a $500 deposit is required for booking

final payment due December 8, 2023
Transportation: Flight cost to Puerto Vallarta airport is not included in the retreat. You book a flight to Puerto Vallarta. Everyone makes their own arrangements and meets on route, if on same flight. It's highly recommended to fly – if non-stop – through Phoenix, Arizona (over Texas). It's a smaller airport, less room for error. However, either works.
Book your arrival flight to land as early as possible – absolutely no later than 3:30 or 4:00 pm (earlier if possible!) – and a departure flight from Mexico no earlier than Noon.
You are met at the airport by a taxi service that directs you to the port for a water taxi service to the resort. Xinalani is accessible by boat, there is no road leading to the resort.
Housekeeping + dining service tips ($10-15 a day suggested) are not included in the price of the retreat, nor are other gratuities. 
Booking and Payment Schedule is confirmed upon receipt of payment.
Accommodations and reservations are reserved with a deposit only. 
There is a resort bar with alcohol and various beverages not included in the cost of the retreat.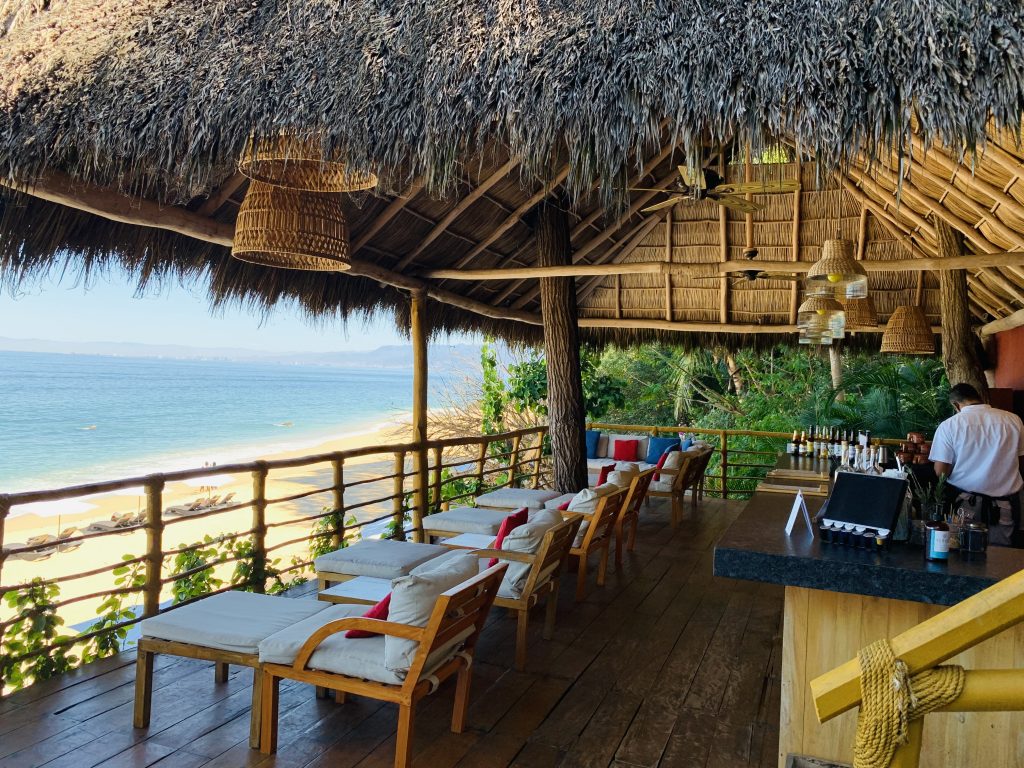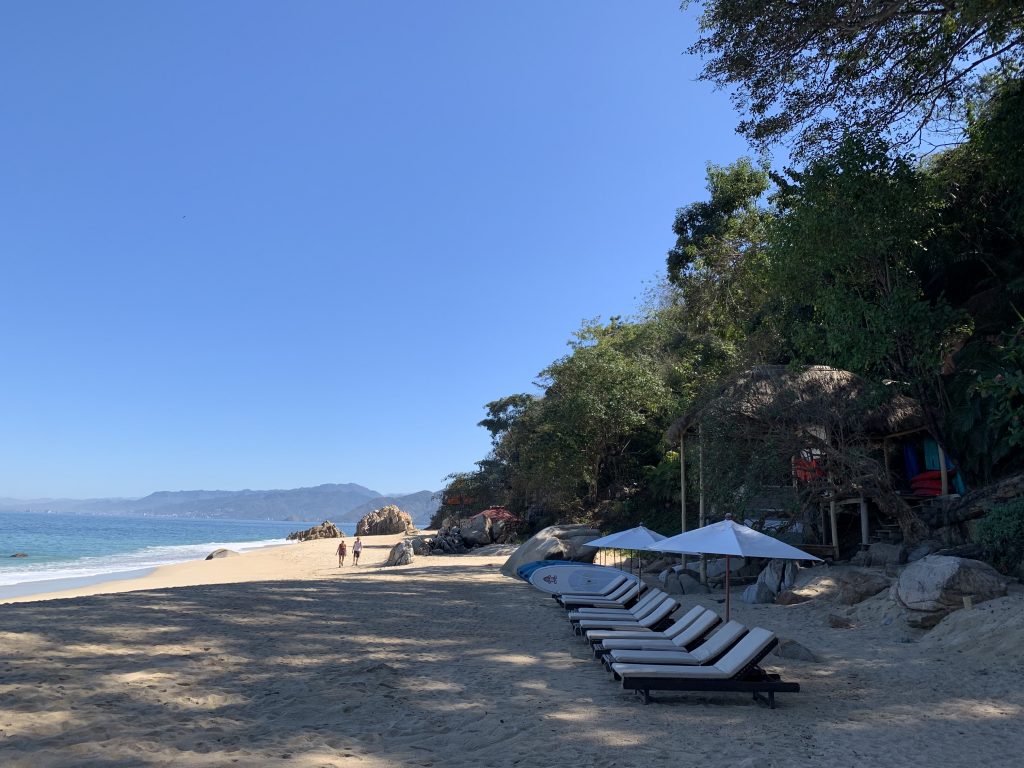 Payable to Jennifer Schelter by check or Venmo. 
Confirm your accommodations and retreat reservation: info@jenniferschelter.com 
Cancellation and Refund Policy
All monies received for the retreat are non-refundable. In the event of cancellation made with 90 days or more prior to scheduled arrival date, they will be credited minus a $150. administrative fee and can be used for Jennifer Schelter's teaching services listed on her website – upon availability within the 12 months following the cancellation notice – or on a rescheduled retreat. No credit or refund is available if the cancelation is less than 90 days in advance, or if the participant leaves the retreat early for any reason. 

There will only be one cancellation/re-scheduling allowed per reservation. A second cancellation will result in the loss of all funds paid.

Force majeure – Jennifer Schelter reserves the right to cancel the retreat in case of force majeure as a result of an extraordinary event or circumstance beyond her control such as, but not limited to, war, strikes, riots, fires, floods, acts of God, natural disasters, epidemics, governmental restrictions, power failures, or damage or destruction of any facility. Jennifer Schelter reserves the right to cancel the retreat in case of force majeure. No refund is possible. Jennifer Schelter is not responsible for any expenses or damages incurred as a result of event cancellations including preparation costs, airline tickets, travel documents or other expenses. Travel insurence is always recommended. All monies related to outstanding services that could not be performed with Jennifer Schelter or Xinalani can be used upon availability within the 18 months following the cancellation notice in the form of a reschedule group retreat or with Jennifer Schelter's teaching services. The credit is personal to the purchaser and non-transferable to any other party. 

Gift Certificates are Available. Ask your friends and family to gift you the trip for your birthday, Christmas or holiday.

Dietary Needs: Breakfast, lunch, and dinner are served Buffet style in the open aired restaurant. Special dietary needs welcome.
We encourage roommates; a friend or partner. We can match you up with others who want a roommate, but there is no guarantee and single occupancy rates apply in the case of single occupancy.

Mexico is a highly desirable destination. Purchase your airline tickets as soon as possible.
To book reservations, info@jenniferschelter.com