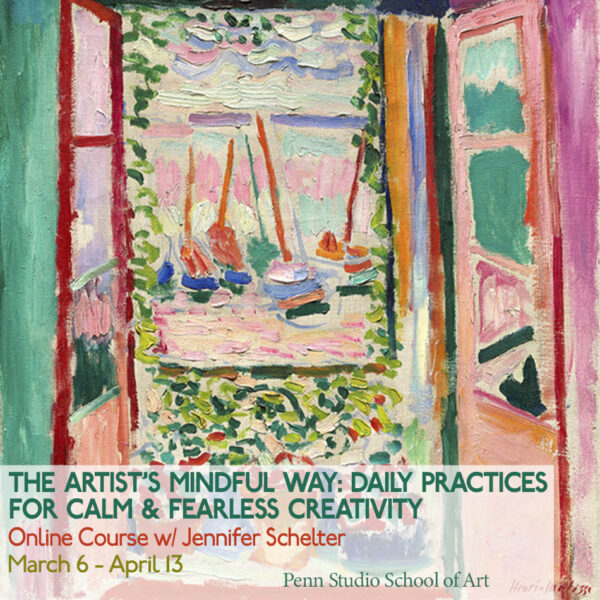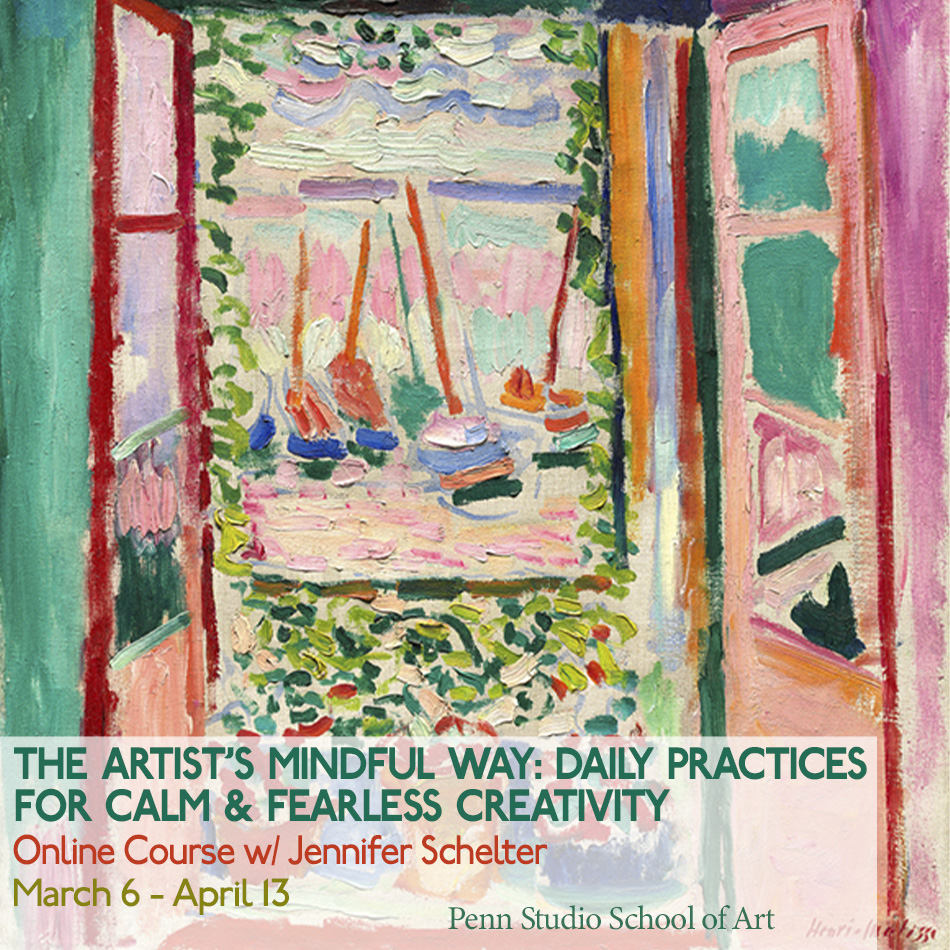 The Artist's Mindful Way
March 6 – April 13 (Monday's and Thursday's), 10-11am EST
Do you feel overwhelmed, stressed or anxious about starting, sustaining or finishing art work? Need a daily practice for calm, and self-care while sustaining a creative practice?
Learn how to create a weekly mindfulness practice to let go fears, self-doubt, resistance and unleash calm creativity for project ideas, confidence, or completion. Set intentions, pay attention to your process and goals while valuing your self-care.
Jennifer offers a step-by-step mindful coaching process. She will lead two – one-hour sessions a week to ground yourself in a mindset and structure for enjoying being in control of your creative life or a project you want to focus on. She will introduce the basics of mindfulness: the power of guided meditation, intention, planning time, space to focus, how to release resistance, get unstuck, and get on with creative goals and growth. Classes are tailored to inspire calm, joy, and focus.
There is immense value in this course for one-on-one coaching, as well, for those who want personal attention and solutions to focus or grow their creative lives. The class structure emphasizes self-confidence and practicality. Each participant will have time to assess their gains and growth and have the opportunity to ask questions about their personal process and experiences.
By the end of the course participants will have a greater knowledge of how to create a sense of: calm, self-acceptance, greater confidence and positivity in the creative process, direction or completion of a project.
Jennifer offers a safe structured atmosphere for learning by encouragement, and welcomes all questions.
Example of Workshop Outline:
Week 1: Being Intentional: What do you want? What's your biggest longing creatively?
Mondays: Word of the week – A focus for intention and attention.
A 20-minute guided meditation to breathe, be grounded, at ease, focus on your creative goals, quiet time for reflection and journaling. Instruction on how to set an intention for the week.
Thursdays: What did you gain?
A 20-minute guided meditation to ground yourself, quiet time for reflection and journaling gains from your week. Each Friday we point to the power of gratitude. What did you learn this week that was helpful?
The above structure repeats each week with mindful elements described in the Book of Joy. No one gets "lost" or left behind.
Benefits:
Guided meditation – 20 min
Silence for self-reflection – 5 min
Journaling prompt for weekly focus – 5 -10 min
Intention setting or mindset for the week. – 5 min
Q&A: How are you? What is needed? – 25 min
Optional Shares
One-On-One Assistance & Mindful Coaching
Gratitude
Workshop Materials List:
Journal
Pen
Quiet space
The Book of Joy: Lasting Happiness in a Changing World
by Dalai Lama , Desmond Tutu
Rate: $325.00
**All sessions will be recorded; students do not have to be present. Recordings will be available for students for up to two months.
DEMO:  https://www.youtube.com/watch?v=clEB2bBS1wc
Register: Penn Studio School of Art