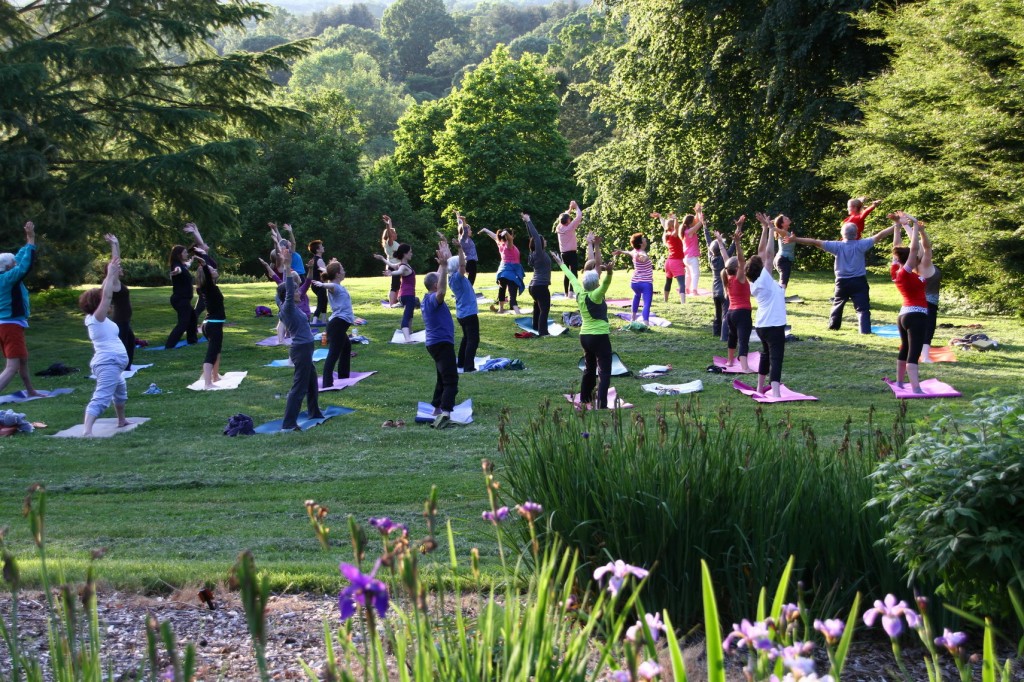 Ten Tuesdays: May 28, June 4, 11, 18, 25, July 9, 16, 23, 30, August 6, 2019
7:00–8:15 p.m.
Members: $180 for ten sessions, $100 for five
Non-members: $200 for ten sessions, $120 for five
Drop-ins Welcome.
The incredible beauty of summer nights at Morris Arboretum provides the backdrop for this unique opportunity to study inspirational Vinyasa (flow-style) yoga led by Jennifer Schelter, named Best of Philly and one of Philadelphia's premier yoga teachers. Participants learn the basics of yoga: breathing, mindfulness meditation, balance, strength, flexibility, core awareness, and deep relaxation surrounded by the Arboretum's peaceful ambiance. Close your eyes and take a deep breath. Inhale the sweet smell of flowers, and feel your skin aglow with the setting sun. Benefits include physical ease, balance, and flexibility, reduction in stress and anxiety, increased energy, calm rejuvenation, inspiration, gratitude, laughter, fun, and community. All are welcome including beginners. Please bring a yoga mat and wear comfortable clothes. Single sessions and series.
To register with a credit card please call 215-247-5777, ext. 125 or sign up on-line at https://online.morrisarboretum.org/classes/wellness. You can also mail a check to the Morris Arboretum, Education Department, 100 East Northwestern Avenue, Philadelphia, PA 19118.
Members $180 – ten session, $100. for five
Non-Members $200  – ten sessions, $120 for five
Walk-Ins for a single session, $25, cash or check only