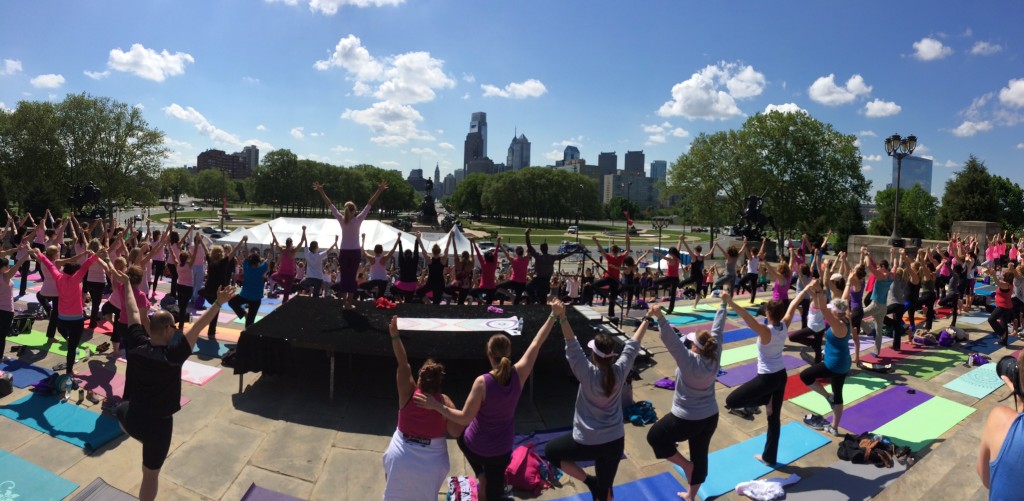 On Monday morning my friend, Dawn Altman​, introduced me to Usha Lakshmi, a yoga teacher at Still Point Yoga who said, "Oh, I love yoga on the steps! My daughter and I do it every year. It's so inspiring and it's our thing. I can't wait."
Yoga On The Steps (now known as Reach & Raise) IS one of THE MOST inspiring yoga classes I know.
People often ask, How did the event get started?
Fifteen years ago, I was 35 years old, alone up on the top steps of the Art Museum practicing yoga, thinking, I have got to share, share this view, share this optimism, share this beauty and meet new people. I need to get out of my rut and expand.
Two years later, Courtney Kapp, a student who I'd worked with who recovered from breast cancer, introduced me to Jean Sachs​, President of Living Beyond Breast Cancer. At our first meeting at Yoga Schelter studio, I shared my vision and we discussed the large fund raising event on the Philadelphia Museum of Art​ steps.
The first year 175-200 people showed.
Last year we had close to 2,000. Family, friends, loved ones: All invited.
No previous yoga experience necessary. The yoga class is for all levels.
If you ever need a boost of inspiration and confidence this is your event.
Next week I'll post on the basics of the yoga practice and the inspiring theme of the class.
Enjoy!