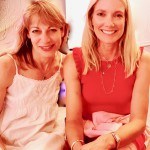 Honestly, I've always felt jealous of women with strong female teams in the workplace.
How did they complement each other instead of compete? How did they have straight conversations instead of gossip? How did they negotiate, have each other's backs, and share their best work?
Last year, I set the intention to create intimacy and learn more about the experience of female partnership in the workplace.
Thus, I want to introduce you to the success story of meeting Sarah Webb, my colleague, and collaborator on the Radiant Retreat 2020.
Sarah and I first met as Freshman's in 1984 at Connecticut College. We said, "Hi!" in the dining hall and nodded to each other at parties. Friendly, but not friends.
However, in 2018, we happened to sit next to each other at dinner during our 30th Connecticut College reunion.
We talked. Really shared. We listened. We found out since graduation Sarah and I both completed MFAs in the theatrical and visual arts. Equally, we work professionally life coaching, lead yoga, and writing retreats/workshops, emphasizing memoir and meditation. Our conversation at dinner was a profound, and unexpected, happy connection and continued to develop in the following months.
In February 2019, while driving home from the Women's Radiant Retreat at the Lodge at Woodloch, my gut said, "Ask Sarah if she'd be interested in assisting me on the remarkable Radiant Retreat, Tulum, MX!" I felt the need to take a leap and despite never formally working together, I called Sarah. Without hesitation, she agreed.
What transpired was an extraordinary process of preparation, working together during the retreat, and the realization that our voices and professional skills combined were stronger, highly effective and more supportive for the retreaters and our selves.
After a joyous and successful retreat week, Sarah and I committed to developing a partnership, and a new path of collaboration offering transformative creative retreats of writing, meditation, goal setting and yoga.
If you had asked either of us, "Why are you attending the reunion?" it was not because we were searching for new career paths, new business opportunities, or friends. We went to get to know our fellow classmates anew. We went to listen and share stories about what the past 30 years had taught us, the bitter and the sweet, how we had grown, and how we were still growing. We went with respect to where we had begun our young adult lives. And I went to pay tribute to, and celebrate, my beloved classmate, and life long friend, Bruce Sutphen, memorial.
Through each other's presence and conversation, Sarah and I came away refreshed, and re-inspired. Re-educated, in a sense, getting to know ourselves through each other. We believe what has developed only because of a chance meeting, vulnerable conversation, trust, and a leap of faith has the potential to inspire others to consider attending a retreat (or reunion!). As well, to simply know we can begin again and meet new friends you never expected to need to meet.
We hope our story inspires you to join us on the Radiant Retreat and to reach out, share life stories because you never know the beauty of where your story will lead.
Kindest Regards,
Jennifer Schelter
Sarah Webb