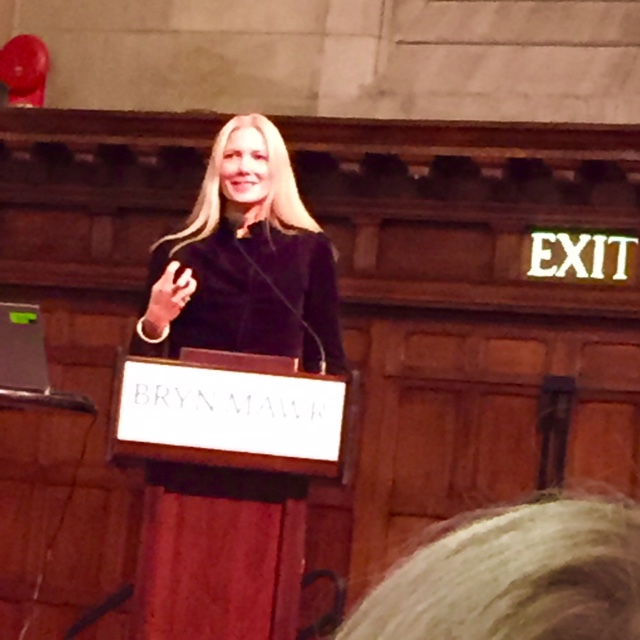 Last night I spoke for the first time at Bryn Mawr College for Main Line School Night. I was honored to kick off the workshop called "Contours of A Rich Life" about the skill and dedication to loving our life, creativity, inspiration, and self-care.
How do we honor who we truly are? How do we get out of a rut?
How do we let our well-being and positivity lead the way?
The speakers, Mika Brzezinski, the host of Morning Joe and best selling author, and Emilie Brzezinski, artist, talked about their mother-daughter relationship and Emilie's art career.
Mika admitted it wasn't easy to  grow up with an artist; a mother who was in love with her art, her chainsaw and ax, who loved carving trees.
What I learned from watching Mika honor and launch her mother's book "The Lure of The Forest":
When we honor the best of our mother,
we honor the best in our self.
My good friend Cheryl Rice recently said is best: "Mothering yourself is a profound act of self-care."
In the workshop we discussed that most women think of "mothering" (who have children or not) as care giving others.
And ultimately, mothering it's what we can do for ourselves.
For whether we are:
a biological mother,
never had a mother,
are a mother by adoption,
are a mother to cats or dogs,
are a single woman,
are childless,
are with child,
are working,
are caring for elderly,
are grieving for the loss of a mother,
are looking for how to mother our transitions and inspiration,
We all crave the energy of being safe and uplifted.
Q: What is mothering?
A: The relationship between the joy you find and accepting the joy others find.
What are you mothering in yourself?
Thanks for reading and sharing your thoughts.
Love,
Jennifer
PS. I need to give a big thank you and bouquets of flowers to Noelle Ricca Peter (thank you for being the one who first suggested I develop this course!) Cara Ferrara Bradley (for all the support from Verge Yoga and these photos) and fellow travelers on the path of inspiration – Jen Torpie, Elizabeth Farquharson Norris, Lisa Bardarson, Main Line School Night, Claudia McBride, and many others who influenced the shine of the evening and workshop.
PSS. A big thank you to Heather Sellers, who's brilliant teaching style and writing shines the light of care and exemplifies beauty.