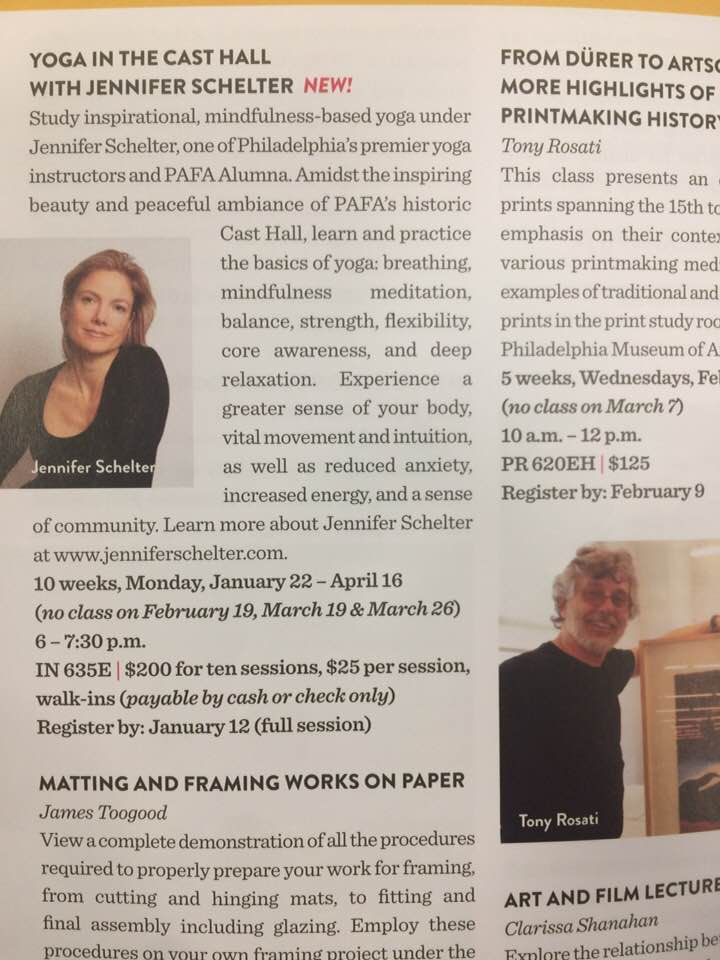 10 Weeks, Monday, January 22 – April 16 (no class on February 19, March 19, and 26)
6 – 7:30pm
$200 for ten sessions,$25 per session, walk-ins payable by cash or check only.
Register by January 12 (full session)
Study inspirational, mindfulness based yoga led by Jennifer Schelter, one of Philadelphia's premier yoga instructors and PAFA Alumna.
Participants will learn and practice the basics of yoga: breathing, mindfulness meditation, balance, strength, flexibility, core awareness, and deep relaxation surrounded by the PAFA's creative, beautiful and peaceful ambiance. You will gain a greater sense of your body, vital movement and intuition.
Benefits include: physical ease, balance and flexibility, reduction in stress and anxiety, increased energy, calm, rejuvenation, inspiration, gratitude, laughter, fun, and community.
Enjoy yoga surrounded by the magical beauty of Cast Hall; portions of the Parthenon Frieze, "The Gates of Paradise" from the Duomo's East Doors of the Baptistery in Florence, Italy, and Michelangelo's Madonna (Pitti Tondo).